Simple yet stunning. Such are the new Enectiva reports.
Introducing a completely redesigned method of energy reporting for all Enectiva users.
Reporting aims to detect waste and automate energy management activities.
It doesn't matter if you read the meters automatically or manually.. The new reports handle both and are designed for everyone.


We have prepared 2 types of reports for you:
Energy report of one building
Summary management report of multiple buildings
Main advantages of new reporting
You no longer have to calculate which of your buildings are uneconomical and wasteful.
They work not only with automatic, but also with manual readings of all types of energy.
They automatically recalculate the consumption to local day availability thanks to the connection to public weather stations.
We will send you a link to a new report every month by email.
All this and much more clearly displayed in graphs.
Starring: Report
1. Introductory header

The header summarizes general information about the report, such as the energy taken into account, the number of days, the number of people, and so on.
2. Potential for savings

Below the introductory heading you can clearly see your potential for saving all the energy in the building. It is calculated as the difference from the theoretical consumption of the object.
3. Electricity
In the case of electricity, the theoretical consumption for May may be exceeded, after two months of wastage.
Probably caused by electricity heating in cold May.
Nevertheless, the ratios below the chart indicate savings compared to the previous year.

4. Gas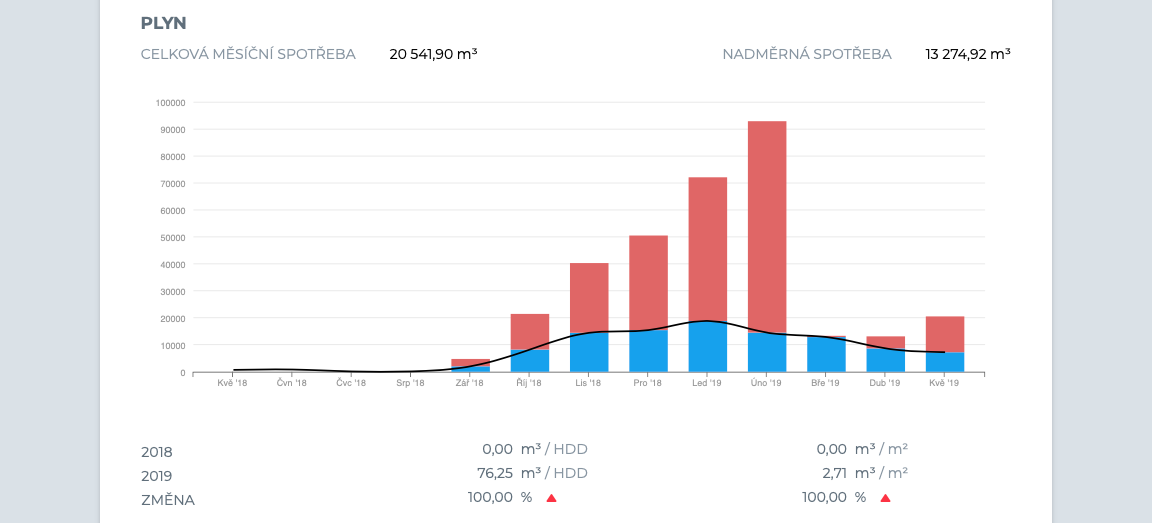 Gas consumption in May was significantly affected by the unusually cold weather.
Even so, taking into account heating efficiency, the nature of the building and outdoor conditions, the report shows a significant waste.
Gas consumption in this building is regularly exceeded.

5. Water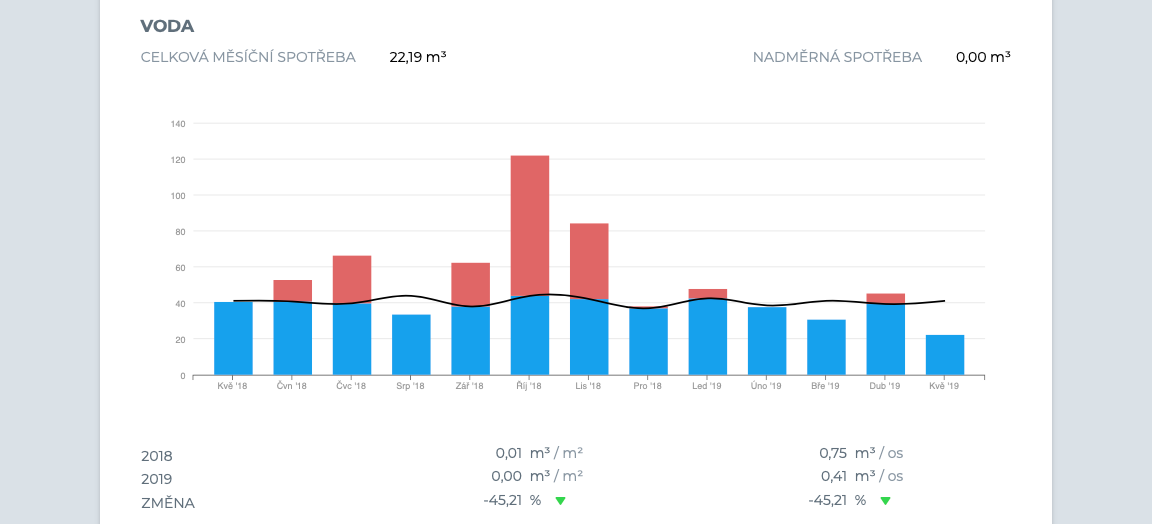 Consumption decreased significantly compared to the previous year and consumption is below theoretical consumption.
Even ratios indicate significant savings.
For such values, our virtual energy manager received praise from us. Will it get yours?
What does theoretical consumption do?
A black line appears in all graphs to indicate the theoretical consumption limit for a given energy, which will help you discover how much you can save.

When calculating the theoretical consumption, we take into account not only outdoor climatic conditions, but also the character of the building itself.
Its value is determined by the energy reference area of the building, structure, type of windows, type of heating and cooling efficiency technologies, character lighting etc.
Furthermore, taking into account the population in a given month and the distinction between working and non-working days.
All with one purpose. Detect wastage on time.
Are you interested in details? Write us.
Contact us at obchod@enectiva.cz or call +420 222 766 950.
Have a nice day,