Enless Ambient CO2, Temperature and Humidity Transmitter (169 MHz)
This transmitter is suitable for indoor use and operates on 169MHz. It offers up to 10 years of autonomy, the battery is replaceable. Transmitter is easy to deploy, could be freestanding or wall mounted, perfect thanks to compact design. It Meets government requirements for IAQ public places Do not hesitate to ask us about integration with Enectiva application!
Specifically designed for indoor applications in an ambient environment, the Enless Wireless 169 Mhz Wireless M-Bus CO2, humidity and temperature transmitter allows you to monitor occupant comfort levels, thanks to its integrated sensors of temperature, humidity and carbon dioxide (data ppm – °C – %rH ).
The data is transmitted by radio to our Modbus receiver, which is usually connected to a gateway ; the communication is done point-to-point in a private, unmanned manner and over a long range of up to 2.5 km away.
The CO2 content is the main indicator of the air quality breathed by users.
CO2 and air quality have a direct influence on the daily comfort of occupants in enclosed spaces, such as offices, and can trigger side effects like fatigue, drowsiness, etc. The odourless carbon dioxide is caused by pollution, and of course from human breathing. The CO2 content is measured as a percentage of air volume or as "ppm". 
Our temperature, humidity and CO2 transmitter is suitable for many applications and sectors:
Housing
Public access buildings 
Tertiary sector
Technical specification
Dimensions: L 99 x H 85 x W 32 mm
Enclosure and IP rating: ABS IP 40
Power supply: replacable C 3.6 V Lithium battery, low battery alert
Batttery autonomy: 1 year battery life with 5 mn periodicity / Configurable periodicity
Temperature sensor accuracy: +/- 0,2°C
CO2 range: 0 - 5000 ppm
Humidity sensor resolution: +/- 2% rH
Configuration / Installation: Radio - Field Configuration Tool (F.C.T. software)
LEDs: 3 LEDs
Certification: CE
Enless Ambient CO2, Temperature and Humidity Transmitter (169 MHz)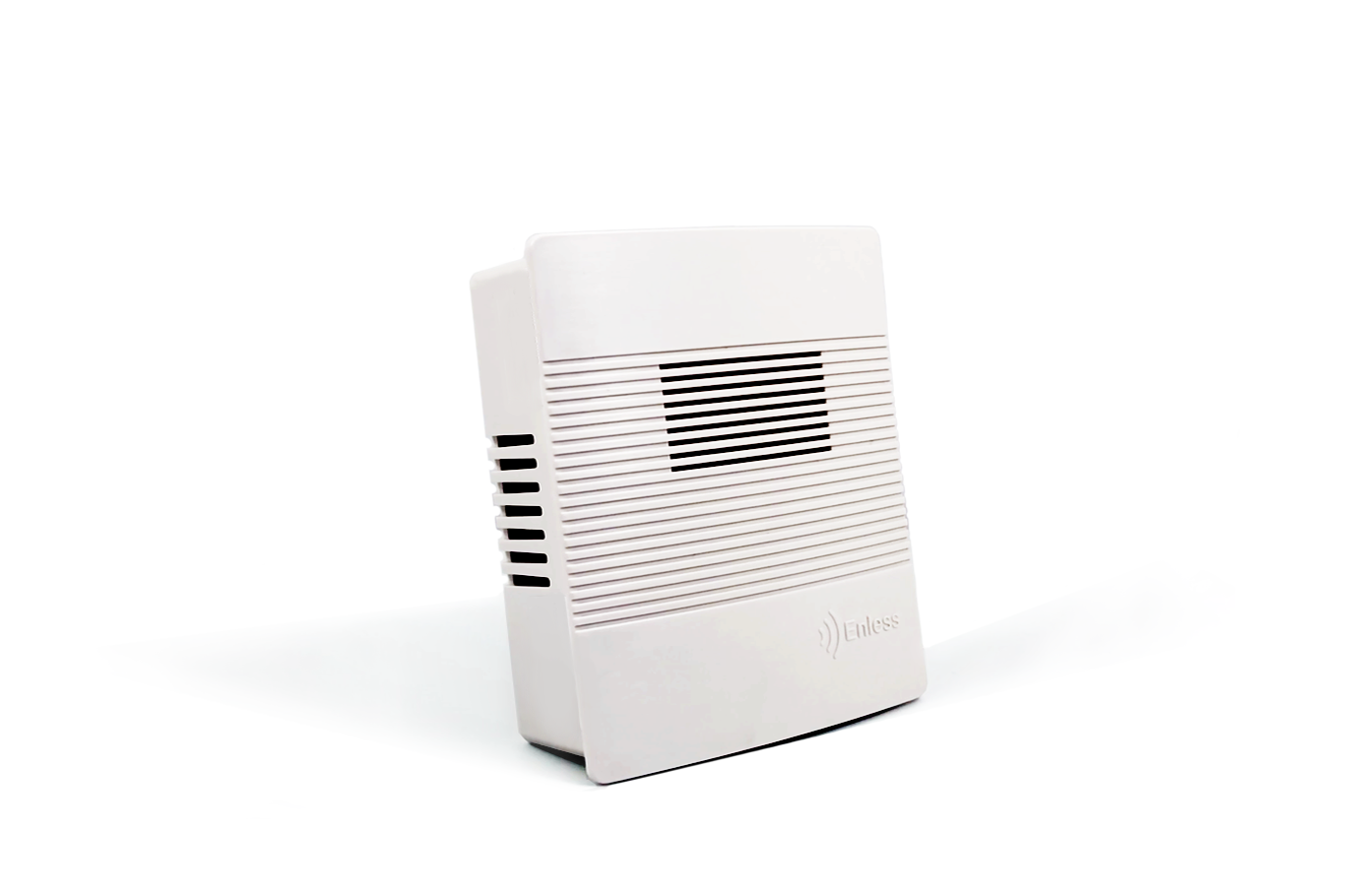 Shipping worldwide