What are dashboards?
Dashboards are useful to get all the data and charts that you need on a single welcome page ! With our dashboards, you can see all of your energy consumptions whether it is electricity, water, gas and even your carbon footprint monitoring in one sight.
The dashboards can be accessed by log in into Enectiva app or by clicking on your profile picture. They are a place where your delivered charts are put, if you want that to happen. Dashboards are assigned to user, so any user of Enectiva can have different dashboard.

How to create your own dashboard?
To create dashboards you need to create chart in the Statistics Tabs at first. Then, for each chart you need to click the deliver this chart button and activate the dashboards mode. Then, by clicking dashboard or after your log-in you will see all the selected charts on the single page.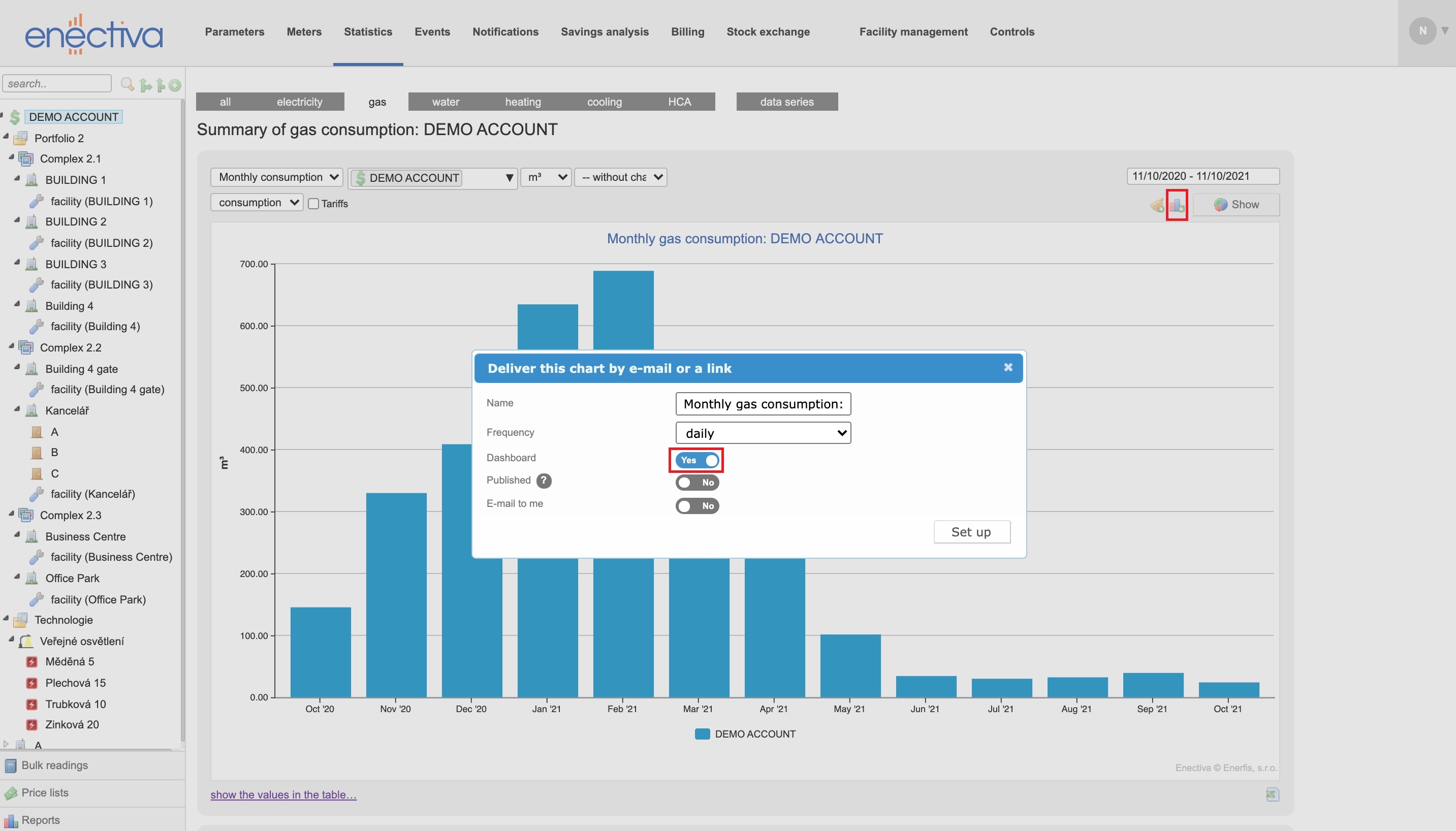 How to edit dashboards?
Dashboards can be edited by clicking on it, hold it and drag and drop it anywhere you want. Like that you can organize your dashboard at your convenience. After organizing, you just have to click on save. You can also decide to delete any graphs on your dashboards by clicking the X button.
How to share dashboards with the others?
You can share your dashboards with your colleagues or customers. For that, you just have to click on the SHARE button. Then, you copy the link at the top right and send it to the people concerned. People accessing your dashboards will have only access to the kiosk mode of your dashboard. Meaning that they will only see the charts displayed. They will be able to make no changes and will have no access to the rest of the application.

Why using the kiosk mode?
Kiosk mode is also a perfect solution when you want to display your energy efficiency or carbon footprint at the entrance of your buildings or facilities on dedicated screens.
This is a great way to promote your energy efficiency !
If you have any questions, the Enectiva team can be reached at sales@enectiva.com or +420 222 766 950.