Smart City - Energy
Energy policies of cities, villages whole counties or other districts are a crucial part of any local administration. Experienced professionals and experts that would continuously aim to reduce energy consumption of administered buildings and facilities are often lacking on the local level. This is why there are so many possibilities to make the use of energy much more efficient in state and municipality administered buildings, as well as to simplify corresponding administration and improve the communication between the individual facility or property managers and local offices. As it provides you with detailed information on consumption, expenses and potential savings, Enectiva helps you develop a clear energy policy. The system Enectiva offers special modified accounts for cities and villages – such accounts allow the individual cities to see the efficiency of their energy use in the context of the whole region. Using Enectiva, you will be able to compare your schools, libraries or city town halls with similar buildings in the country in terms of energy use. Enectiva also serves as a simple tool of invoicing energies to tenants or of providing reports about energy data to the management of buildings or districts.
We have also developed a special features for monitoring energy saving projects on public lighting systems.
Main benefits of the cities, villages and counties segment
Improved energy efficiency; decrease ecologycal impact;
Huge reduction of administration and paper work
Tracking of energy savings projects on public lighting, schools, offices etc.
Smart City solution Enectiva gives cities a chance to compare the energy efficiency across the countries. Enectiva system will be able to find out how energy are consumed in your schools, libraries or offices. You will be able to compare these buildings with the same type nation average. Likewise, you will have the option to simply charge energy to tenants and report energy data to your supervisors.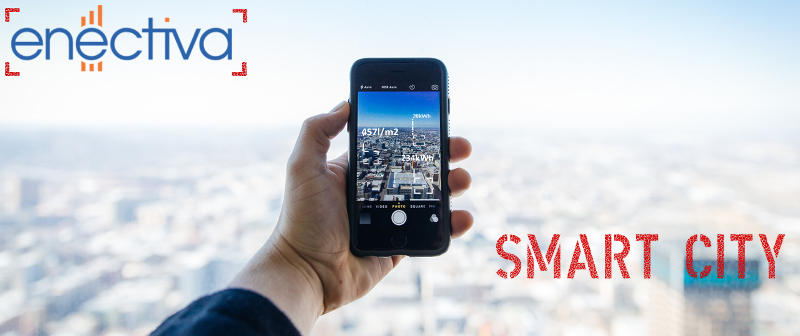 FAQs about Smart City solutions Enectiva:
1. Is it necessary to install new servers to run application Enectiva?
Enectiva is a cloud solution. The customer does not need to install or run anything for its operation. Only open website www.enectiva.com to login .
2. Shall we pay for the number of system users?
The number of users is not lincenced. Customers pay according to the number of measuring points and sites (locality).
3. What kind of hardware is used for Smart City Enectiva projects?
We are cooperating with different HW producers all around the world. At this moment our projects are running mainly on M2M HW from company
2N Telekomunikace
.
4. How are the energy data imported?
There are several ways. Meter readings can be entered manually, in the bulk of the excel files, automatically links to other information system via API or by a system for automatic meter readings.
5. How much is the installation of meters for automatic meter reading?
It always depends on the current situation, we recommend you make an appointment with our technician. In the long term we are moving in complex projects involving water, electricity, heat, cold, on average cost around 180 EUR per installed meter. They are in fact the cost of the meter, data concentrators, complete installation, commissioning.
6. What range are wireless meter readings operated?
Currently we have technologies that provide readings wirelessly from a distance of several meters up to 10 kilometers. But always it depends on the density of development and properly selected technology. For every situation fits also different transmission frequencies.